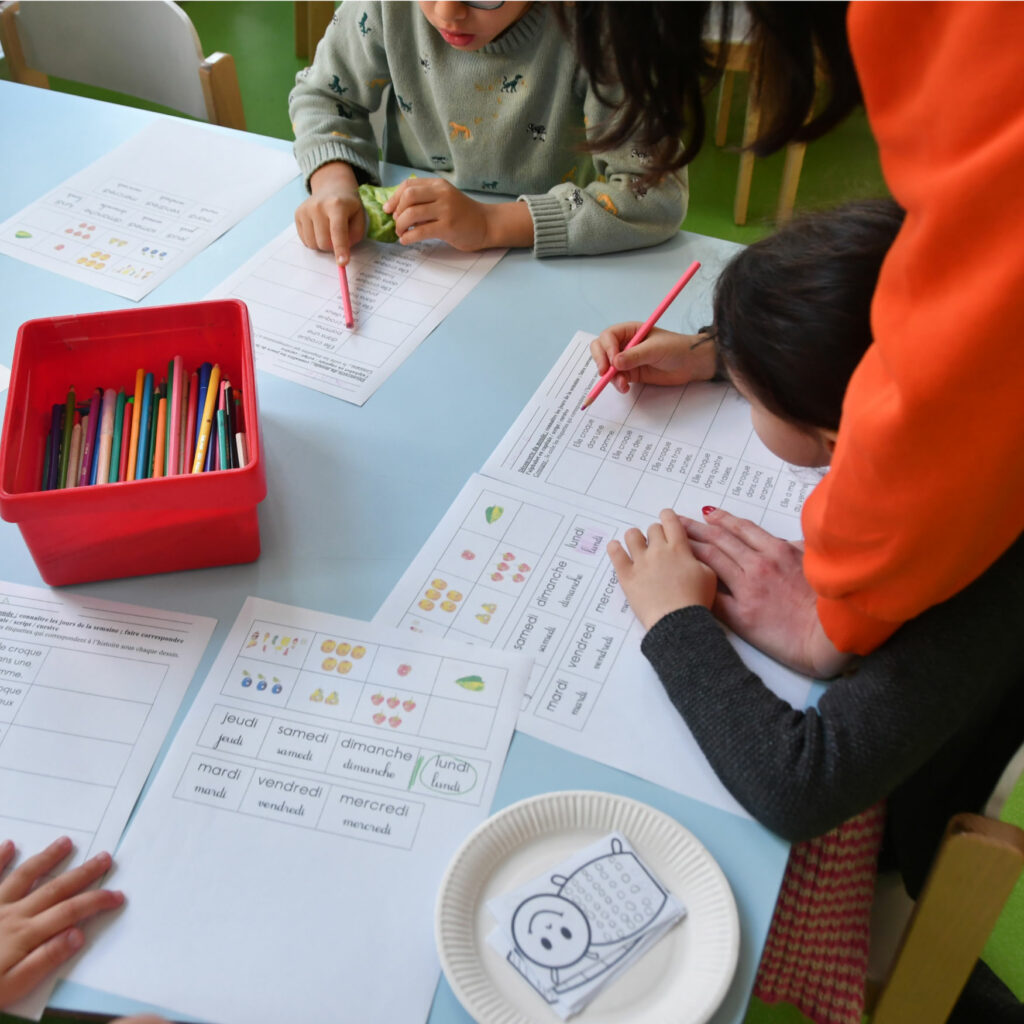 The School
2.5-6 years old
A world apart in the heart of the city
in Boulogne-Billancourt
At ARCO IRIS, the bilingual preschool of Boulogne, the days follow each other but are not the same. Each moment of the day is experienced differently depending on the weather, the mood, or the group.
But how do we learn then? Thanks to two inseparable actions of the team of the bilingual preschool of Boulogne ARCO IRIS: the establishment of rituals and the teachers' adaptation through constant observation.
ARCO IRIS, the bilingual preschool of Boulogne, is inspired by the Anglo-Saxon method (encouragement, caring) and the Montessori method SO that the children are actors in their own learning. These methods are implemented on a daily basis by the team at ARCO IRIS and offer optimal conditions to prepare for CP (reading, writing and life skills).
ARCO IRIS, the bilingual preschool of Boulogne, is also a place for creativity through activities focused on the environment (it is located in an ideal area for observing nature while moving around in complete safety).
Last but not least, art is at the heart of the workshops at ARCO IRIS: self-expression, development of the body through art and working on emotions.
Our Values

→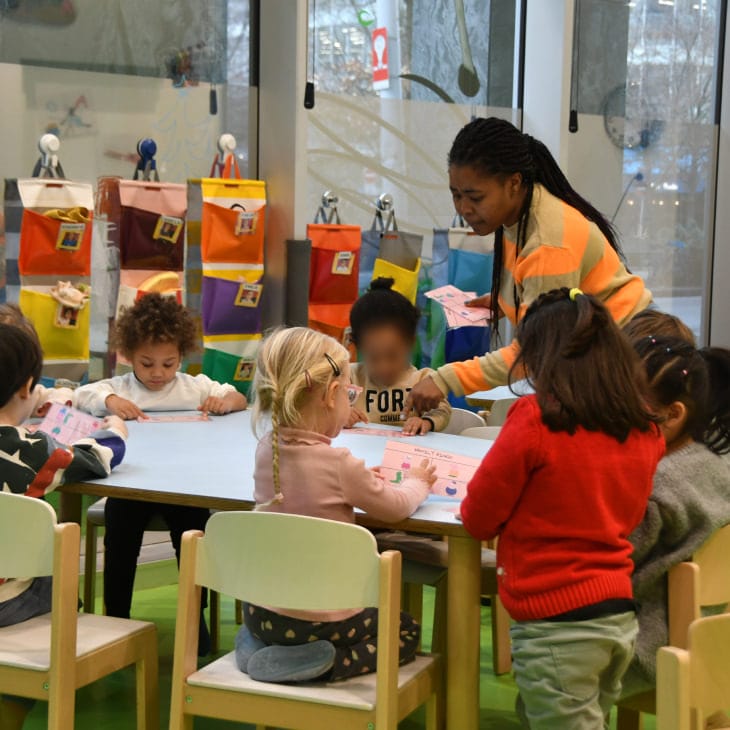 The daily routine
Is this your child's first time at school and you would like them to discover the group in a friendly atmosphere?
Are you convinced that English should be learned from a very young age and in immersion? Is your child HPI (High Potential Individual), HPE (emotional gifted), hypersensitive, full of energy and you prefer for them to express themselves in a small group? Do you think your child will learn better in a small group and should be able to experiment at his/her own pace before joining elementary school?
At ARCO IRIS, the bilingual preschool of Boulogne, every day is an opportunity to learn and to celebrate what you can do. Contact with other children of different cultures and languages, and with teachers who are available for them, is a considerable advantage at this age.
Welcoming time
8.30am-9.45am
At ARCO IRIS, the bilingual preschool of Boulogne, this is the most precious moment of the day: we talk to each other, we take our time to wake up, we meet again, we say "hello" (or not – it will come with time).
Circle time 9am-9.20am
That's it, the day starts: we sing, we dance, we exchange ideas, feelings, and opinions before getting to work.
Activities 9:20-10:15
The workshops at ARCO IRIS bilingual preschool are all based on the National Education curriculum and presented in a fun way, either in French or in English. Groups are divided according to their level and mother tongue in order to take advantage of the teaching which is adapted according to the Anglo-Saxon method and the Montessori pedagogy.
Break time 10:15-11:10
It's playtime! The bilingual preschool ARCO IRIS has a large courtyard where children can not only ride their bikes and play with balls, but they can also take care of the environment by visiting our garden or taking part in gardening workshops.
Outdoor time is highly valued at ARCO IRIS because it offers many advantages (more info in KIOSK)
Lunch time 11:30-12:30
Then comes lunch time, a time of conviviality, autonomy and sharing, the flagship values of ARCO IRIS bilingual preschool.
Sleeping time quiet time 12.30-14.00
Nap time is a sacred moment at ARCO IRIS bilingual preschool: teeth are brushed and nappies changed if necessary. Children grab a cuddly toy and go to bed to the sound of peaceful music.
During this time, the older children have an outdoor playtime. They can play, explore or even go to the "Maison de la Planète" located a few steps away where they can read or visit an exhibition among other activities.
Everyone lives at the rhythm of their sleep and their desires. This is their time off during the day.
Older children's workshop 14:00-14:45
Then, the older children take up workshops which focus on writing, discovering sounds and numeracy but also discovering the world with or without a screen (maximum screen time: 15 minutes, under supervision).
To find out more about the use of screens at the ARCO IRIS bilingual preschool, see our Journal.
During this time, the younger children wake up and join their friends for a much loved free playtime. The teacher is attentive and available t animate a game or to accompany a child who gets up.
Body awakening and discovery of the world 3pm-4.10pm
After a 20 minute physical awakening (dance, yoga, choreographed singing…) various artistic workshops such as cooking, painting and modelling, or sensorial and scientific workshops are the preferred moments to reveal all the talents and awaken the senses of the children.
It is a collective time with individual or collective productions, produced at the child's own pace, with a wide range of instructions t allow the practice of a method while giving free rein to the imagination.
The day ends with a circle time and a goodbye song before the parents arrive.
CLUB 4.30-7.30pm
Believe me, it's a real party for the children who stay at the club to enjoy the activities we offer. Learn more →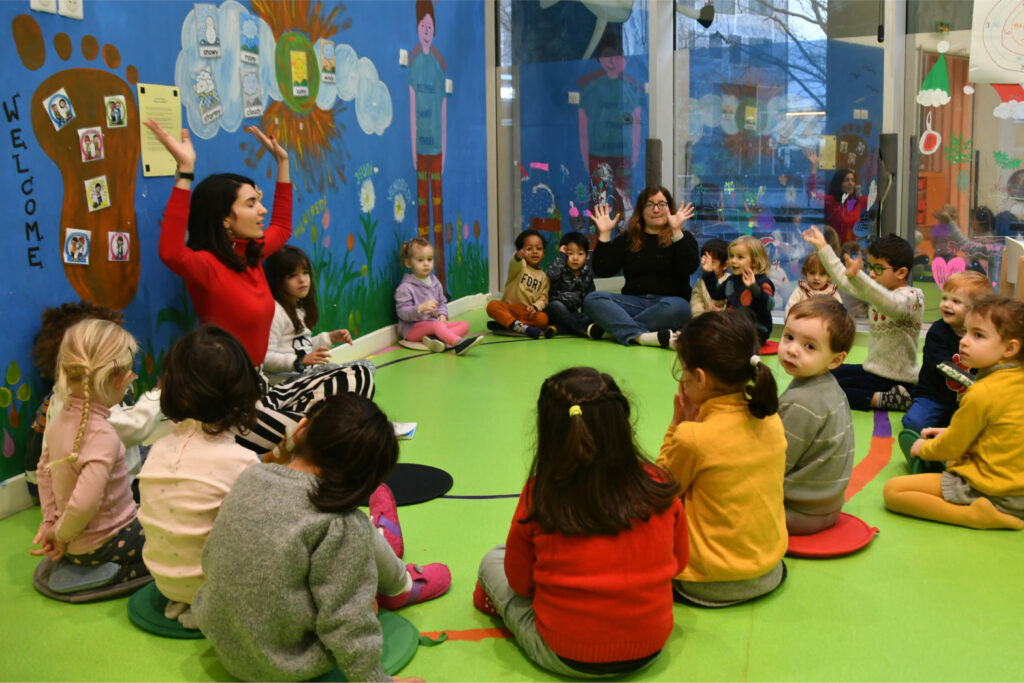 The activities
At ARCO IRIS, the bilingual preschool in Boulogne, every day is a joy of discovery and improvement: at every moment, your child marvels, concentrates, manipulates, explores, learns, always in a playful way, through activities that stimulate the 5 senses.
ARCO IRIS bilingual preschool of Boulogne enjoys discovering and revealing children's talents through the various workshops described below (and more!)
Arts: apprentice painter and sculptor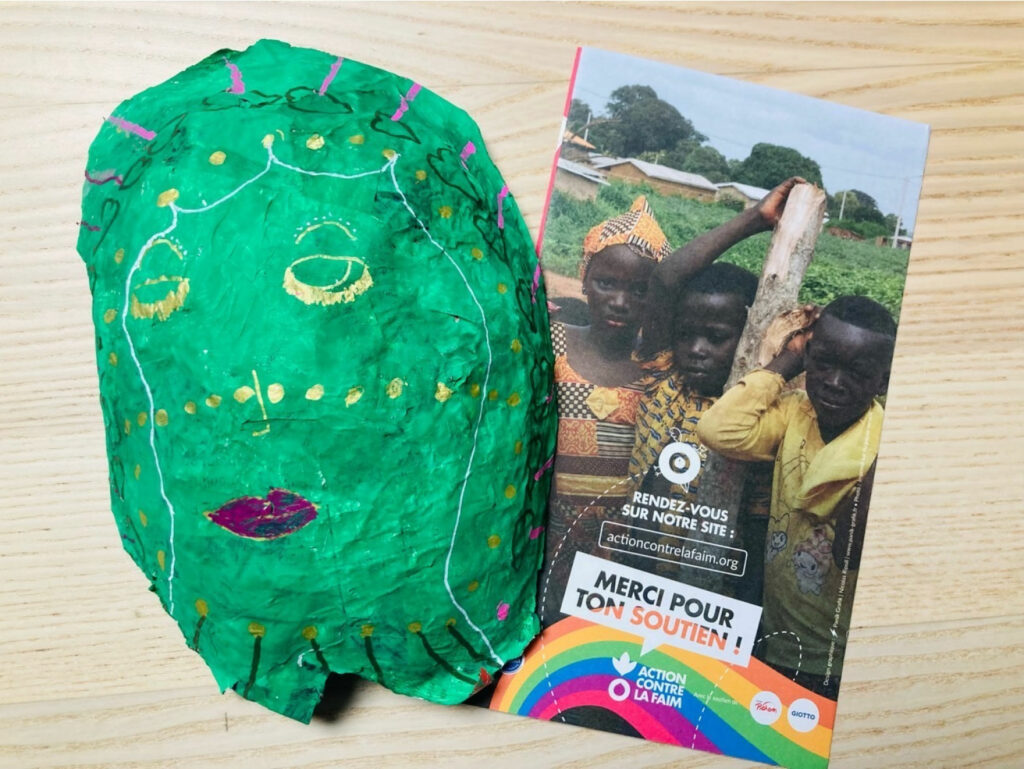 At ARCO IRIS, your child puts on his apron, grabs his/her palette or his/her artist's tools and discovers artistic techniques.
Group or individual painting, modelling, cutting and collage inspired by the greatest French and international artists.
Exhibitions and charity sales all year round!
Body Awakening at ARCO IRIS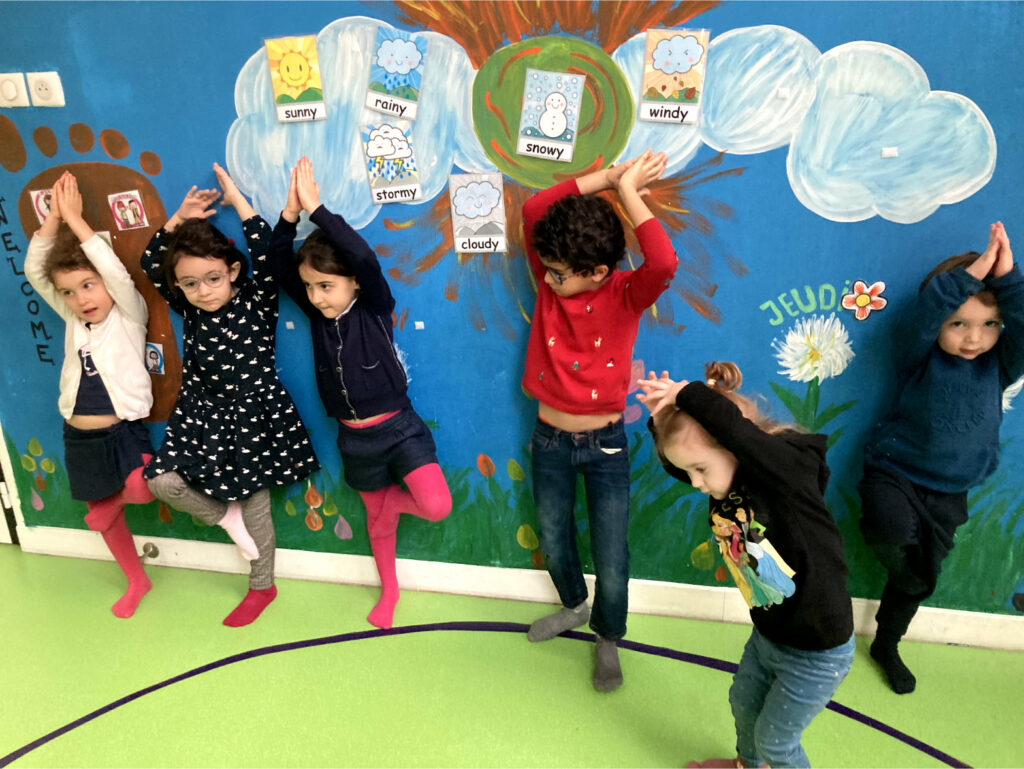 Your child may be a a future athlete or simply a happy child thanks to the workshops at the bilingual preschool ARCO IRIS: indoors or outdoors, different circuits are created each week and following the recommendations of a psychomotor therapist, Chantraine dancing, yoga and body awareness every day, an energising programme!
Music at the bilingual kindergarten in Boulogne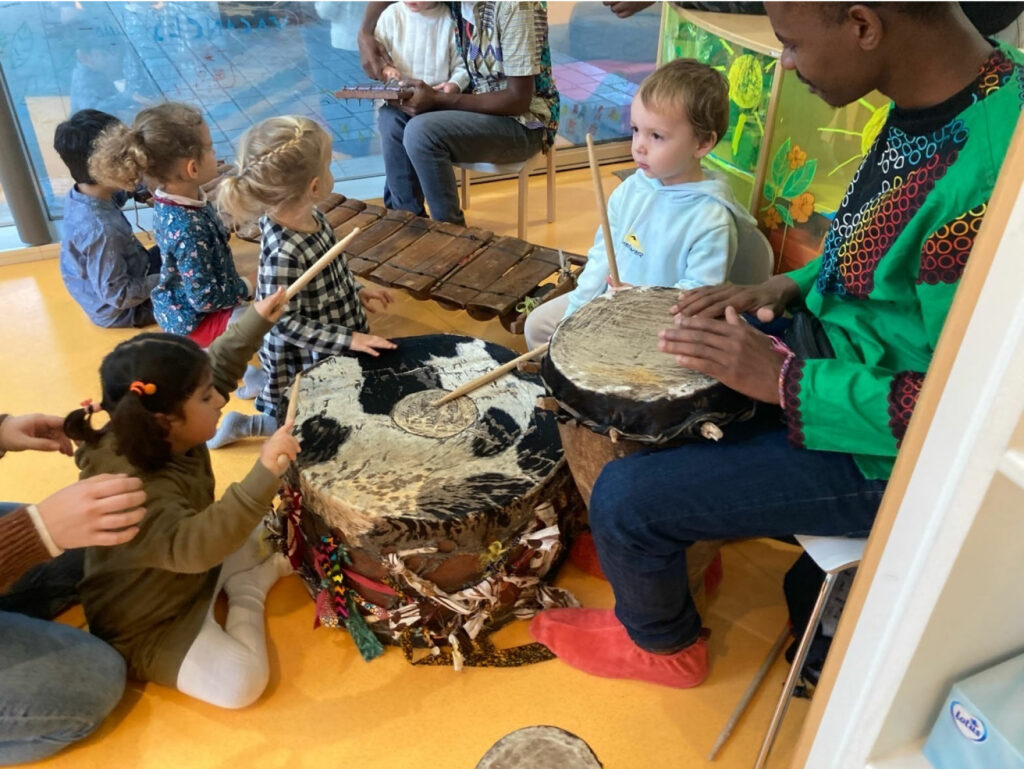 Music is the daily rhythm at ARCO IRIS and our Music Day Fanfare is very popular! All year long, the children express their sensitivity in their own way through gestures (body percussion), voice or instruments, guided by Vincent, our favourite orchestra conductor.
Construction, Science and Mathematics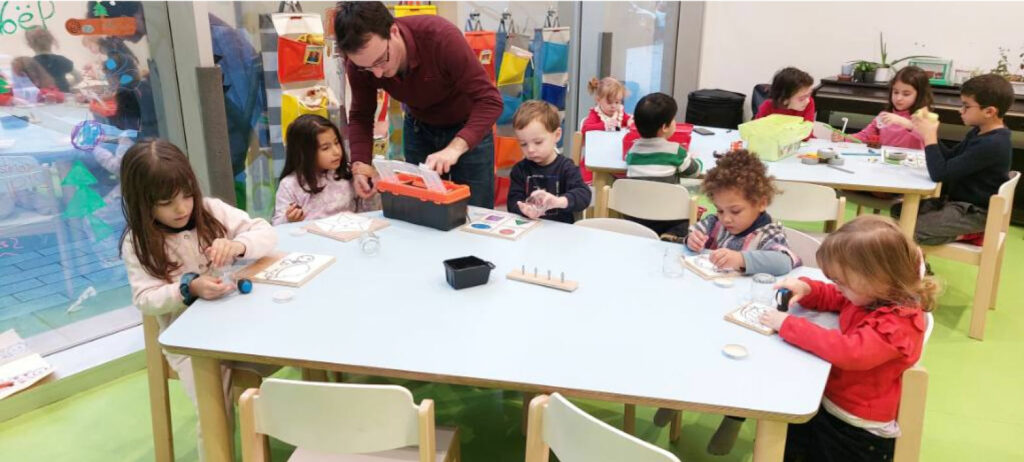 Crafts are also a passion communicated to the children through manipulation, construction and tool discovery workshops at ARCO IRIS. The weekly magic tricks (science) and maths challenges are always eagerly awaited by the children, who are captivated.
Gardening and exploring the forest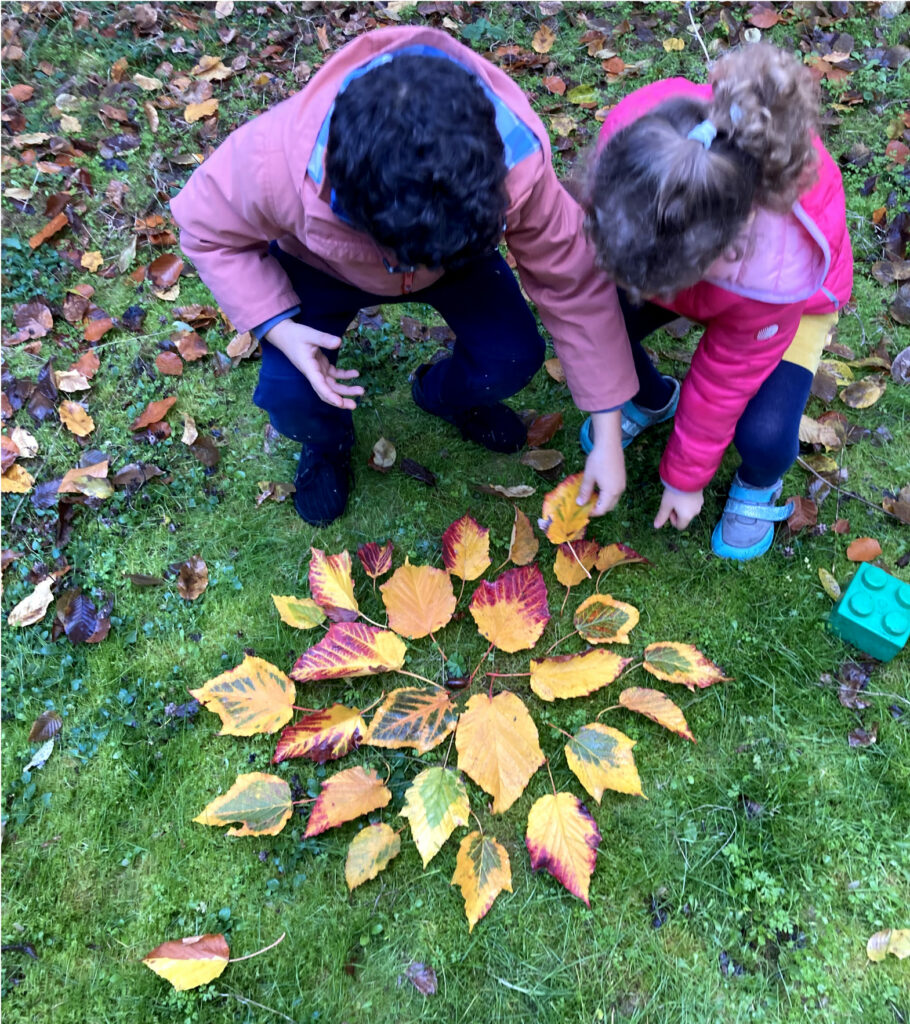 Learning outdoors is an incredible opportunity for children, who are freer to move and more attentive.
The park, the forest, the vegetable garden, the outings are all precious moments to get in touch with the living world.
Our pupils from the bilingual preschool of Boulogne ARCO IRIS manipulate the earth, plant, sow, observe, draw, get excited, or simply escape and dream.
Some pictures
Team testimonials
Ketty is bilingual and teaches English with enthusiasm:
Hello, Hello, I enjoy gardening, poetry, being creative and artistic through many media. With this in mind, trying to encourage and inspire the kids at school to open their minds and be creative and imagine all the possibilities, as they grow and shape the kind of world they want to live in!
Her smile and poise are a comforting balm to all those who come into contact with her at ARCO IRIS bilingual preschool.
K
Ketty
Enseignante anglophone
Renata is trilingual and teaches French from the heart at the bilingual ARCO IRIS preschool
Passionate about language learning, enjoy being surrounded by multilingual people young and old – from different cultures, creating a diversity that promotes a and cherishes differences. I teach children the values of openness, listening and empathy in a fun and caring environment that gives them a taste for learning.
Renata's sensitivity and humour shine through!
Paula is trilingual and shares all her passions with children in English:
"I am passionate about sports, and I love dancing, reading and cooking. I love bringing my passions into school and doing these types of activities with the kids. I'd love the kids to enjoy the experience at ARCO IRIS bilingual preschool so that they'll be able to remember their childhood as a happy one."
An avid sports woman, Paula is not afraid to take on any challenge to broaden the knowledge of the children at the ARCO IRIS bilingual preschool.
Vincent est note Maestro des ateliers musique et bricolage :
"J'adore transmettre du savoir aux enfants à travers les jeux."
Quand Vincent arrive, les yeux des enfants pétillent de joie.
JoiN Us
If you like to create, imagine, build, experiment
If children are a source of wonder for you and you want to pass on to them what matters to you, if you have the patience to learn and let even the youngest (3-10 years old) know,
If you like to communicate with those who share this job and share the day with parents,
You have your place at ARCO IRIS, the bilingual nursery school in Boulogne!
ARCO IRIS, Boulogne's bilingual school is a sparkling school, an open, bright, and exciting place for children, where they enrich themselves with difference, open themselves to the world in French and English.